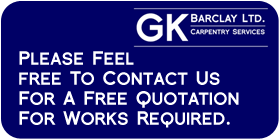 Testimonials
Here are some testimonials from our customers.
Pull Off The Impossible - Kevin and Pip, USA
If you want somebody to help you pull off the impossible challenge, Gavin is your person.
We had two weeks to transform my tired, three bedroom Victorian terraced house in Ramsgate and Gavin was pivotal in helping us achieve this in 11 days. I live in the States and my parents who had occupied the house, moved at short notice, leaving a home that needed urgent attention if we were to let the property out.
From the outset Gavin was proactive in helping us purchase and install the kitchen we wanted. He coordinated other local contractors he knew to come to the house to ensure upgrades to the plumbing, gas and electricity were completed in a timely manner to avoid any delays. All of them were delightful to meet and their work was also to a high standard. It was wonderful how flexible Gavin and the team were with working around the painter's schedule whom we also had to make room for in the milieu!
It was a houseful but Gavin remained reassuringly calm and positive throughout the project. He always kept focused on the goal set for that day. He was approachable and easily accessible to respond to any questions or requests.
We never had cause to be concerned that the job would not be accomplished in the time we had.
We were delighted with the quality of Gavin's workmanship not only in removing and installing the kitchen, but also with other carpentry needs around the house. The house was transformed, especially by the main focal point, the kitchen.
We are indebted to Gavin for taking hold of this project and organizing his time to help us achieve the success we hoped for. Being able to muster up a reliable crew with whom he clearly has a good rapport, also endorses his ability to get the job done.
Thank you Gavin! You are a gem!
Kevin and Pip Maas, Fredericksburg, Virginia, USA